About the CAD-805AE Amplifier
The CAD 805 Anniversary Edition offers 50 watts per channel, Pure Class A Single Ended Triode Mono Blocks with dual 6SN7 input stage, 300B driver stage tube, includes both 845 and 211 output tubes. User selector switch for output tube. Jaguar Anthracite black chassis and top plate with clear coat finish, anodized aluminum front panel. ZERO feedback design.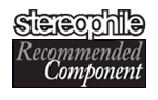 The following section describes the CAD-805AE basic specifications. The specifications are subject to change without notice or obligation.
Circuit Type
Single-Ended Class A1/A2
Power Output
50 watts
Input Sensitivity
1.0 Volt for full output
Noise and Hum
-80 dB below full output
Frequency Response
20 Hz to 20 KHz +/- 0.75 dB
Inputs
Single-Ended RCA (Optional Balanced XLR)150 K Ohms input impedance
Tubes
2 ea – 6SN7 Input
1 ea – 300B Driver
1 ea – 845 Output + 1 ea – 211 Output
1 ea – 1629 'Cat Eye' output level tube
Power Transformer
1 ea – EI Laminate, 200% Duty Cycle
Output Transformer(s)
1 ea – EI Laminate, Air Gap, 200% Duty Cycle4, 8 or 16 Ohm speaker connections
Resistors
1% Metal Film
Capacitors
Oil-filled Coupling
Power Supply Capacitors
4 ea – 1500µF @ 450 VDC
AC Cord
3 Conductor, Detachable
AC Power Requirements
117/234 VAC @ 50/60 Hz
Consumption
230 watts – Operation
76 watts – Standby
Warm-Up Time
5 Minutes
Break-In Time
100 hours of playing time
Finish
Silver Anodized Aluminum Faceplate,Jaguar Anthracite Black chassis and top plate with clear coat finish, steel chassis
Weight
80 lbs
Dimensions
8.5″ H x 12.25″ W x 24 " D